So you finally got a girl's WhatsApp and now you are ready to start chatting with her.
Unfortunately, that's where many guys fail and end up losing the girl's interest.
They either don't know what to say to a girl they like or are not able to keep the conversation going.
In our WhatsApp guide, we will take a look at how to start a conversation, keep a girl interested, get a date, and make her fall in love with you.
Don't miss: 50 Examples of How To Text Someone You Haven't Talked To In Awhile
Why Should You Use WhatsApp to Chat With Girls?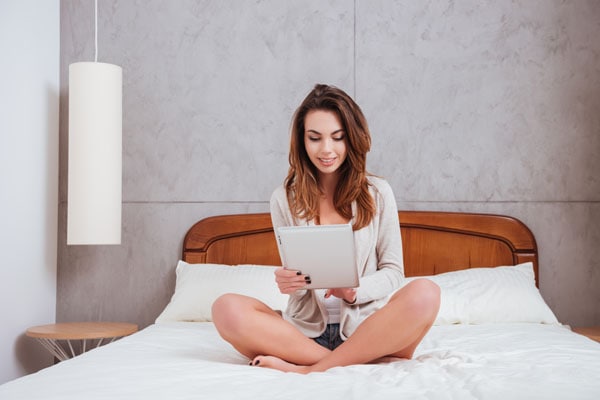 WhatsApp is a very popular messaging app, and most girls already have it on their phones.
Some women use WhatsApp because it is a cheaper alternative to texting while others use it when they are out of the country.
However, the biggest advantage of WhatsApp is that you can quickly switch from chatting to video calling.
Whatever the reason, WhatsApp is a perfect tool to flirt and chat with girls.
To talk to a girl on WhatsApp, you will need to get her number.
If you already have it, great!
If you don't have her phone number, you will need to get it before you can start chatting.
The good news is that most girls will be more open to sharing their phone numbers if you tell them that you just want to chat with them on WhatsApp without implying that they have to do anything else (ex. going on a date with you).
Many girls don't want to give their phone number to a guy they just met because they are afraid that he might end up being a creep or a stalker who will continuously call and message them.
There are a lot of weird people on dating apps like Tinder so it is hard to blame girls for being careful with their numbers.
To increase your chances of getting a phone number only ask for it if you already exchanged at least 10 messages on a dating app and you feel that a girl is comfortable chatting with you.
If you are not using online dating to meet girls a couple of good premium sites you can try are eharmony and Zoosk.
Don't miss: 27 Examples of How to Not Be a Dry Boring Texter
How to Ask a Girl for Her WhatsApp?
If you met a girl online on a dating app like Tinder or Bumble, you can tell her something like:
Hey, I don't go on Tinder much. What is your number? I will add you on WhatsApp. 🙂
2. Hey Kate, do you have WhatsApp? I want to send you something 🙂
3. Hey, do you mind if we chat on WhatsApp? I like it better than Tinder messenger" 
4. I love chatting with you here but I am honestly not a big fan of Tinder. Do you have WhatsApp by any chance?
5. You sound pretty awesome! Send me your number and I will text you on WhatsApp.
7. I really enjoy chatting with you. Would you happen to have WhatsApp?
8. This app is so frustrating, do you have WhatsApp?
9. You seem really cool and I'd love to get to know you better. Would you be okay with exchanging numbers? I promise I'm not a creeper, we can just chat on WhatsApp. 🙂
10. Can I have your digits so I can add you on WhatsApp?
Here are another 12 unique examples of how to ask a girl for her number.
One of the reasons why it is important to move your chat from Tinder or Bumble to WhatsApp is to get rid of all the competition. Most girls only have friends in their WhatsApp contact list and now you are one of them.
On dating apps on the other hand she might be chatting with several guys at a time and you are just one of them.
How to Start a Conversation With a Girl on WhatsApp?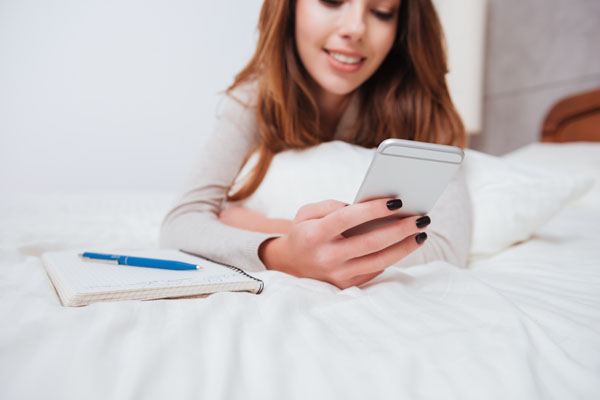 Now that you have a girl's number, it's time to start chatting with her.
Message her something fun and open-ended – you don't want to put too much pressure on her.
For example, say something like:
11. Hey, it's me Mark! What are you up to?
12. Hey, it's Mike, the hot guy from Tinder
13. Hey, it's Dave! So what are you up to/how is your day going?"
14. Hi, it's Tom. Love your profile picture with a puppy. How old is he? (Comment on her WhatsApp picture)
15. Hey it is me. Any exciting movie plans for tonight? I need some ideas 🙂 
16. Hey, I saw you were online and thought I'd say hi!
17. Hey, I'm just wondering if you're up for a chat? 🙂
18. Have you seen the new Marvel movie? I really want to see it!
19. So what do you like to do for fun?
20. I love your profile picture, where was it taken?
Even though this may seem simple, it is a friendly way to start a conversation.
If you need more ideas on how to message a girl for the first time, read this article – How to Text a Girl for the First Time and Get a Date?
How to Keep a Girl Interested?
Now that you started chatting, it is important to keep it going.
Ask her questions and tell her funny stories.
21. Hey, so when did you go to Mexico for vacation? I've been planning a trip there for a while now. 
Tell your own funny story about your trip to Mexico to make her laugh and build more rapport.
22. The last time I went to Mexico I by mistake went into the wrong room in my hotel. Good thing I noticed there was a couple already sleeping on a bed there. I guess in the heat of the moment they forgot to close the door lol Do you have any crazy stories from your travels? 
Also, don't be afraid to flirt with her while at the same time trying to get to know her.
23. Do you have blue eyes? I was trying to figure out if we have the same eye color.
24. What was your favorite TV show when you were younger? 
25. Do you have any pets? I have a dog myself and she's the cutest thing in the world. 
26. What kind of music do you like? I'm a huge fan of rap and hip-hop. 
27. What's your favorite color? I'm just curious.
Here are 59 flirty questions to ask a girl over WhatsApp. However, try not to make your questions overly suggestive if you haven't met her in real life yet.
It is much easier to flirt with a girl in person because you can use your body language which is crucial when it comes to flirting.
Also, some guys with a lack of dating experience often end up offending a girl when trying to flirt or tease her because she can't read their facial cues and might not realize that they are just joking.
Remember that your goal is to make her interested in you intimately and not just as a friend.
When she tells you about what she has been up to, comment on it, or ask her more about it – she will appreciate that you are interested in her life.
Girls like guys who they can actually talk to, instead of guys who only talk about themselves.
Now that you are talking, remember to throw in some compliments here and there.
28. I like your glasses! You look very cute in them.
29. You look very stylish in your outfit.
30. You look so adorable in your last photo! 
31. You have such a lovely smile.
32. You look like a model in your photos from your Mexico vacation!
Make sure what you tell her is genuine and do not compliment her by putting other girls down. Even though this is a popular flirting technique, it will only make you look like a jerk.
If you want to say something like, "Wow, you're so much smarter than all the other girls I know," don't do it.
Instead, say something like, "Wow, you're really smart, it's really awesome!" There is no need to insult others when complimenting her.
Don't miss: 10 Ways To Flirt With An Older Woman
How to Ask a Girl on a Date?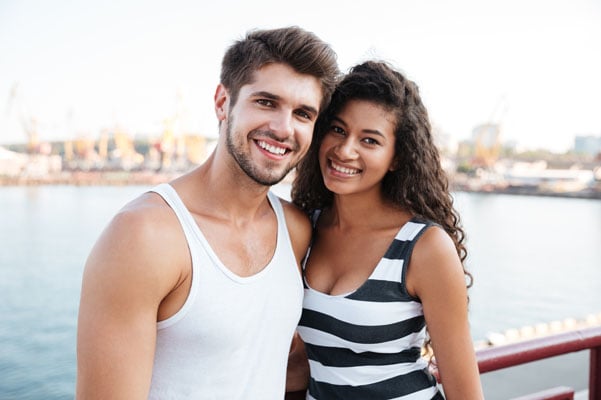 So you've been talking to a girl for a while and now it's time to make a move!
As a rule of thumb, it is better to ask for a date sooner than later. Too much back-and-forth texting can make some girls bored and ruin your chances of getting a date.
33. I am going out for a drink at this new bar downtown. Would you like to join me?
34. Hey, would you like to grab a cup of coffee sometime?
35. Hey, my friends went to this new ice cream place downtown last week and really enjoyed it. Would you like to go with me? I really want to try it.
36. I know you love art. There is a new exhibit opening at the museum downtown. Would you like to go see it with me?
37. I am going to this new coffee shop tomorrow. Would you like to join me? They supposedly make the best coffee in town.
38. Hey, how about we go to the zoo this weekend? Haven't been there in ages. 
39. I was just thinking, since we both like hiking, maybe we could go on a hike together sometime?
40. I want to take you out. Are you free on Friday?
41. I know you love going to the beach. Would you like to go to the beach with me sometime?
42. I am going on a hike this weekend. Would you like to join me?
43. There is this great new restaurant that just opened up. I have been dying to try it. Would you like to go with me?
44. I am thinking about going to the zoo next weekend. Would you like to come with me?
45. I am going to a concert next weekend. Would you like to join me?
46. I am going to the carnival next weekend. Would you like to come with me and go on some rides? Should be a lot of fun!
47. I am going out for drinks with my friends tonight. Would you like to come with us? You can bring your friends along as well. 
48. I was wondering if you would like to go out to dinner with me. I know this great new restaurant that I think you would love.
49. I was thinking that maybe we could go see a movie together sometime. There's this new movie that I really want to see.
50. What do you think about going on a picnic together? I know this great spot that I think you would love.
If she says, yes, great! If she doesn't say yes or avoids the question, then do not try to force her to go out with you.
If she isn't interested, that's not your fault. Most importantly, do not be bitter about it.
There are a lot of single girls and you don't want to waste your time on someone who doesn't want to go out with you.
No matter how many compliments you give a girl, she does not owe you anything.
Here are more ideas on how to ask a girl on a date.
How to Make a Girl Fall in Love With You?
Many guys are looking for a secret that will make a girl fall in love with them.
However, you need to keep in mind that WhatsApp is just a tool and if you are afraid to ask a girl out after chatting with her for a few days, she might start thinking that you only want to be her friend and not a lover.
Unless there is something that prevents you from asking her out and meeting her in person, the girl might put you in the same category as all other "nice guys" who tried to chat her up on WhatsApp.
If you are actually not able to meet her in person, because you live far apart or for any other reason, try video calling her or even better ask her on a date over Zoom.
It is much easier to make a girl fall in love with you if she can see and hear you.
Avoid becoming her texting buddy at all costs!
Read next: 150 Flirty Texts to Send to Your Crush
Dating Sites to Try in 2023!
*This post might contain affiliate links. If you click on a link, we might receive a small commission. As an Amazon Associate, we earn from qualifying purchases.