Having a platonic girlfriend or boyfriend can be awesome. They can give you a different perspective on life, help you when you are feeling down, and even be your wingman when you are trying to meet someone.
Most of the male-female friendships start at a very young age while still in school. However, as both people get older it is not uncommon for one of them to develop romantic feelings towards their best friend.
This often can make a friendship weirder or completely destroy it.
So what should you do if you find yourself feeling attracted to your best friend?
Should You Tell Your Best Friend That You Like Them?
First of all, you need to realize that giving your best friend any hints that you are romantically interested in him or her can make your friendship more awkward or in some cases even break it apart.
Later in this article, we will take a look at different ways to let your best friend know that you like them depending on how comfortable you are and how much risk you can take.
Even though telling your best friend that you like them can hurt your friendship, hiding your feelings when you really love them can also have a negative impact on your relationship.
It is also highly likely that later in life you will regret not being open to your best friend about your feelings. Especially if they start dating someone else or find a husband or wife and then slowly disappear from your life.
Many friendships fade as people start families or move to different cities. This means hiding you feeling from your best friend doesn't necessarily mean that you will stay friends forever.
In addition, there is no guarantee that a new romantic partner of your best friend will approve or even understand your friendship and might eventually push your friend to break contact with you.
You also need to realize that as you develop strong romantic feelings towards your best friend he or she slowly stops being your best friend and becomes your crush.
Life is short so if you really love your best friend let them know how you feel by using the ideas that we will discuss below.
Obviously, this advice is not applicable if your best friend is happily married. Don't be the reason for someone's divorce.
So how can you tell your best friend you like them more than a friend?
Don't miss: 13 Examples of How To Break The Touch Barrier With A Girl You Like
How to Tell Your Best Friend You're In Love With Him or Her?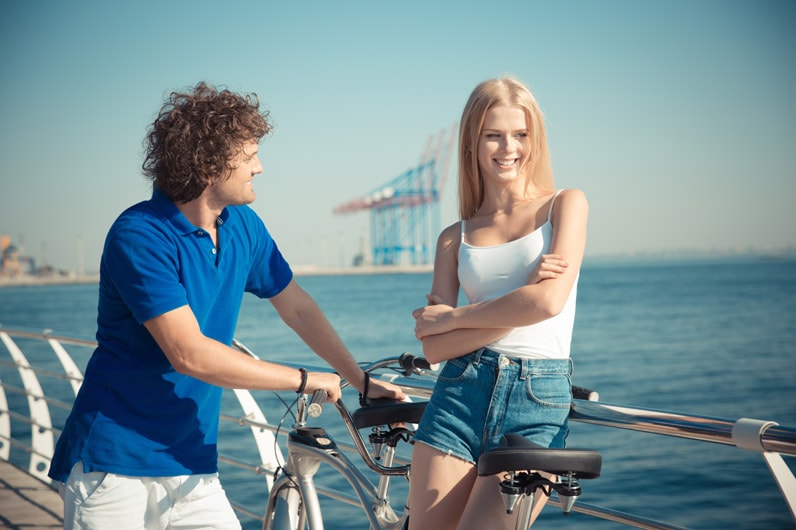 1. Be Straightforward
If you are willing to take your chances and not afraid of ruining your friendship, don't beat around the bush and tell your best friend that you really like him.
This option will work the best if you suspect that your best friend might secretly like you as well.
2. Give Them a Hint That You Are Interested
This method is pretty direct as well but it makes it easier for your best friend to say no without offending you.
Tell her that you really love her as a friend but if she ever wanted to be more than just friends you are open to that but only if it will not ruin your friendship.
3. Ask Your Other Friends for Help
If you have a good mutual friend that you can trust, tell them to ask your best friend if she secretly likes you.
Another option is to ask your best friend if she thinks that you might have romantic feelings towards her.
Depending on how your best friend reacts, instruct your mutual friend to say that they are joking if it doesn't go well.
In any case, this conversation will likely make your best friend reexamine her feelings towards you.
4. Joke About It While You are Both Drunk
When you are both having a good time joke that if she wasn't your best friend you would date her and see how she reacts.
Alternatively, you can hypothetically ask her if she ever wondered what would it be if you were dating instead of being best friends?
Another option is just to ask her what she thinks about friends dating each other.
If she doesn't take it well, blame it all on your drinks.
5. Play Truth or Dare
While playing a game of truth or dare with your best friend, ask him if he ever felt attracted to one of his friends.
6. Tell Your Best Friend You Were Mistaken for a Couple
Tell your best friend that you overheard other people wondering if you are both dating and see how she reacts.
Based on that you can either change the subject or ask her if you should try dating for a month to see if it works out.
Don't miss: 16 Reasons Why Guys Don't Want a Relationship With You
What If Your Best Friend Says No to Dating You?
As we already discussed, telling your best friend that you love them can result in rejection.
If you do get rejected, try to take it easy and avoid asking them again about it.
Maybe they do feel attracted to you but are afraid of ruining your friendship or hurting your feelings later. There are many reasons why your best friend might not want to date you.
There is no need in trying to get an explanation and instead tell him or her that you agree that it is better if you just stay friends and avoid having this conversation again.
Act like nothing happened but understand that it might take some time for your best friend to get over this conversation.
Lastly, there is always a small chance that your best friend might change their mind later now that they know about how you feel.
Read next: 10 Ways to Ask a Guy or Girl to Be Friends with Benefits
Dating Sites to Try in 2023!
*This post might contain affiliate links. If you click on a link, we might receive a small commission. As an Amazon Associate, we earn from qualifying purchases.