Many singles believe that creating chemistry by texting someone is an art that requires a lot of skills and experience.
However, this is NOT true.
There are specific steps that you can take to build chemistry and attraction just by texting someone.
You don't have to be a pick-up artist to drive a girl or guy crazy with your texts.
It doesn't take much to seduce someone if you know how to flirt and tease with your text messages.
What is Chemistry?
Do you ever get butterflies in your stomach when you're with a certain someone?
It's when your body releases a rush of oxytocin all over causing you to flush.
It's what you feel when you're interacting with someone you find attractive.
This is the feeling of desire that makes you want to jump them.
Chemistry is important in establishing any kind of non-platonic type of relationship with someone.
And it is only built when there is an attraction.
It may be a physical attraction: you find them good-looking; you find their physical traits appealing.
It may also be an intellectual attraction: you find yourself getting turned on by how they carry a conversation; you find their mind fascinating.
Whatever it is, there has to be an attraction to create chemistry.
Don't miss: 150 Examples of Cute Love Notes To Leave Your Boyfriend
"Dirty Texting" vs. Building Chemistry Over Text
Mistaking these two is a carnal sin.
There is a thin line that differentiates these two and not being able to see that line can cause grave consequences and can seriously hamper whatever you have established with the other person.
1. What is Dirty Texting?
Dirty texting is more of a direct intimate and suggestive exchange between two people.
It's usually done when both of you are in a mood to get it on by sending naughty pictures/videos of themselves to each other and basically like "making out" but over text.
2. What is Building Chemistry?
Building chemistry is sort of the level or phase you have before your sleep with each other.
It's the earlier stage of the relationship where you're still getting to know each other and are building that anticipation for that special moment.
Don't miss: 150 Freaky & Flirty Questions to Ask Your Crush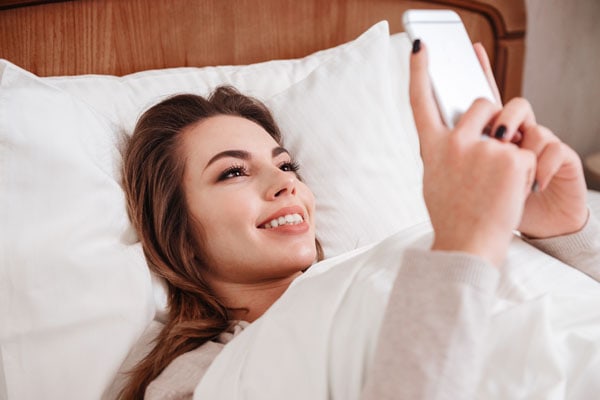 How to Start Building Chemistry?
1. Make Sure There's a Mutual Connection.
Chemistry is based on attraction and you build attraction by showing interest in the other person besides sleeping with them.
If they get the impression that you're after them for one thing, they may get turned off (unless they're only after that one thing as well).
But even with casual relationships, carrying for another person's feelings is still important.
2. Start With Something Light.
You can send out the first text and see how they're doing. You can be creative but there shouldn't be too much pressure.
This will help you to gauge what they're doing at that moment.
The worst thing you can do is start flirting with someone and catch him or her at his or her worst moment.
Checking in is a good way to determine this.
3. Send Open-ended Texts to the Person You Want to Seduce.
In order to have a conversation with someone, they'll have to respond.
Make it easier for them by sending texts with questions at the end that they can answer.
4. Check How They're Responding.
Are they in the mood to talk? Are they engaging?
Are they sending out the same signals as you?
Being aware of how they're responding will spare you from being that annoying person that keeps texting them.
Don't miss: 55 Ways to Ask for a Second Date Without Sounding Desperate
5. Tease Them Little by Little.
Don't give it all at once. That's what's fun with texting.
Pulling away for a bit keeps the other person wanting more.
The saying "Absence makes the heart grow fonder" is true.
6. Show Your Naughty Side.
You have to let them know you're interested in them physically.
No, I don't mean sending them pics of your 🍆. You have to be creative yet still maintain manners.
Using innuendoes is an easy way to do this.
If it doesn't work, it's easily deniable and you can move on to trying something else out.
7. Be Spontaneous.
Part of building physical attraction is being excited.
If you've been dating this person for quite some time now or may have even done some form of physical intimacy already, this is one of the best things you can do to heighten the tension.
Sending them a random naughty text will surprise them and initiate the desire for you and a bit of frustration that they can't have you at that moment, building anticipation.
8. Step on the Brakes From Time to Time.
Don't be too eager too fast.
There's nothing less attractive than a person coming on too strong when you're not in the mood.
9. Spellcheck Your Messages.
More studies are showing that people lose interest in a potential mate when their texting is all over the place.
Wrong spelling and grammar sometimes are acceptable but when it's all the time, they might wonder why your texting is off all the time.
It shows a lack of effort in the conversation and gives the impression of sloppiness.
10. Ask Them Out.
All your texts should lead up to asking them out.
The main point of building chemistry and anticipation is to take it to the bedroom.
This will never happen if all your conversations are via text and you never meet the person.
Don't miss: 67 Flirty Examples of What to Text a Guy After the First Date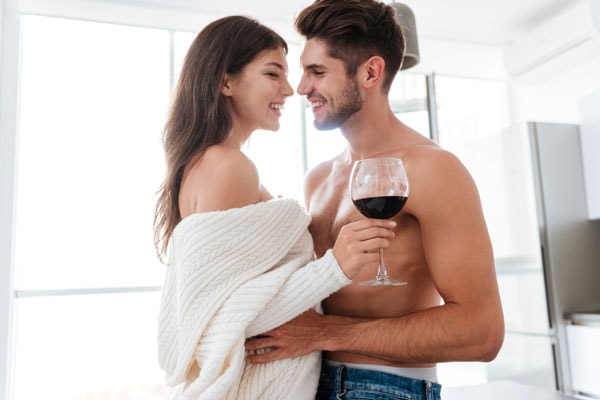 Why Use Texting to Seduce and Arouse Your Guy or Girl?
Technology is largely a part of how we socialize now.
More people prefer to chat or text instead of calling when they're not together.
So if you're just starting to see someone, odds are you won't be with them 100% of the time.
Keeping in touch with them is key for them to not forget you.
And since texting is the norm you have to learn to utilize this tool to build chemistry when you're not together.
Be creative and fun when you text them. Make it funny. Keep it light.
Use this time for letting the other person know that you want them and looking forward to being with them.
Sending them a flirty text or meme, when done right, does a lot to build anticipation and excitement.
At the end of the day (or night), that is what it's all about.
Read next: 100 Examples of How to Text Your Crush Without Being Boring
Dating Sites to Try in 2023!
*This post might contain affiliate links. If you click on a link, we might receive a small commission. As an Amazon Associate, we earn from qualifying purchases.