Did you receive a text from a girl in the middle of the night and now you wonder what it means?
Does it mean that she likes you or is there something else going on?
Here are the top reasons why women text or even call men at night.
Why Would a Girl Call or Text You Late At Night?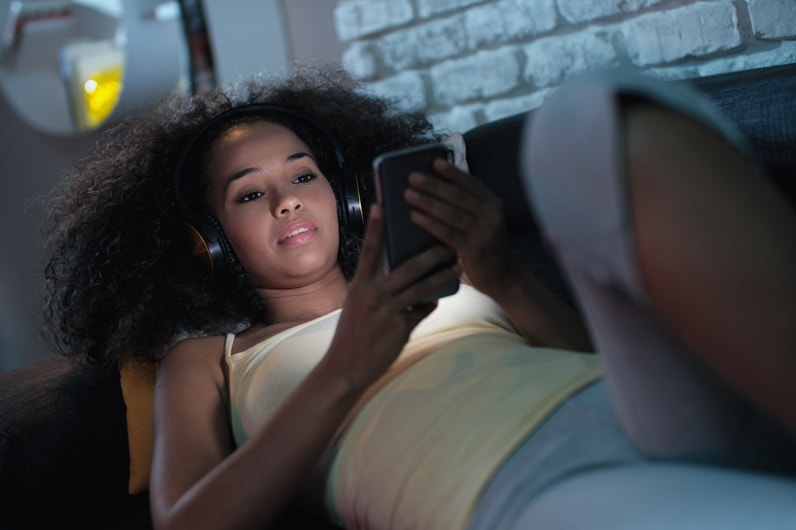 1. She is Drunk
If the girl is texting you in the middle of the night, she might be just drunk and bored.
Most girls are too shy to text guys first especially in the middle of the night. However, after a few drinks some women forget all their shyness and might text or call guys they find interesting.
It doesn't mean however that she will not regret texting you so late when she wakes the next morning.
Usually, it is pretty easy to tell when the girl is drunk.
Her grammar will likely suck and she will act much flirtier than usual.
"I am so tipsy lol WYD?"
"Awake?"
"Heyyy you!"
"Hey handsome!"
"Heyy Mike? This is Kat"
Don't miss: 10 Ways to Get a Girl to Send You Pictures of Herself
2. She Likes You
More often than not if the girl texts you late at night it is a pretty obvious sign that she likes you.
However, don't assume right away that she wants you to come over to sleep with her.
Maybe she wanted to text you earlier but it took her the entire day to finally get enough courage to message you.
You will not be able to figure if she likes you from just one message. That's why it is important to continue chatting with her to see if she gives you more clues on what she really wants from you.
Don't miss: What Does It Mean When A Girl Gives You Her Number Without You Asking?
3. She Can't Fall Asleep
Some girls like to message people when they are lying in bed and can't fall asleep.
However, in most cases, they only message someone they feel comfortable chatting with like their friends, and not the guys she barely knows.
"I need to get an AC. It is so hot I can't fall asleep lol Are you awake?"
"Sorry for texting so late. Are you sleeping?"
4. She Has a Different Sleep Schedule
Getting a text at midnight might sound too late for you but if she typically goes to sleep at 2 am every night for her it might be a perfect time for texting.
It is also possible that she has a night shift and it might be perfectly normal for her to text so late a night.
Try to ask her why she is still awake to get a better idea about her intentions.
"Do you want to join me and my friends for a hike this week?"
"Finally got home lol I am so tired. Are you awake?"
"Did you say you were driving Uber as well?"
5. She is Out Partying
If she is out at the bar or in a nightclub, she probably gets home by 3 am, and texting you after midnight might feel fine to her. Especially if she is a little tipsy.
"WYD? I am out with my girlfriends in a bar close to your place. Wanna join?"
Read next: 10 Ways to Respond to a Cancelled Date
6. She is Too Nervous to Message You
If the girl is extremely shy, she might find it easier to message you at night because she knows that you will not be able to reply right away.
It doesn't sound logical but for some people, it feels "safer" to message their crushes when they can't reply right away.
"Hi it is Jenny! We had the same math class last semester. How are you?"
7. She Wants to Sleep With You
Many guys assume that late-night texts mean that the girl wants to sleep with them and in some cases they are right.
If the woman texts you late at night asking you what are you up to or telling you that she is lonely, it is obvious what she wants.
She might say things like I am tipsy, I need someone to cuddle with, or I feel lonely laying on a bed by myself.
"Are you still awake? Just came home from a night out with my girlfriends"
"I need someone to cuddle with"
"What are you up to? Want to come over?"
"Some pizza and wine would be nice right now"
"Hey, are you free? Want to watch some Netflix? I have snacks and beer"
Do you wanna have some fun?
She might even send you photos of her lying on a bed.
Don't miss: 101 Examples of Best Compliments For a Girl on Her Photos
8. She Just Broke up With Her Ex
Maybe she just broke up with her ex or her date didn't go as planned and now she wants your company to take things off her mind.
"Hey I know it is later but do you want to come over?"
"Did you hear about me and Mike? Can't believe he slept with my best friend"
"I know it is been a while but is your offer for Netflix and pizza still available?"
9. She is Cheating
A woman who has a boyfriend or is married might be texting you so late at night when her partner is asleep and cant's catch her chatting with you.
It is always a good idea to stay away from married women to avoid unnecessary drama.
Read next: 6 Real Reasons Why Married Women are Attracted to Other Men
What to Do When a Girl Texts You Late at Night?
Even though the reasons that we discussed today might help you to figure out why the girl texts you so late at night, don't spend too much time trying to analyze her behavior.
Instead, get to know her over the text until you are comfortable asking her out and meet with her in person.
It is much easier to find out her intentions when you interact with a woman in person.
If she doesn't even want to meet up, maybe she was just bored and had no one else to text.
However, if you meet her in person and notice a lot of chemistry you know what she really wanted when she texted you at 2 am.
Read next: 21 Signs That a Girl Is Using You
Dating Sites to Try in 2023!
*This post might contain affiliate links. If you click on a link, we might receive a small commission.