If you are not familiar with the term "Netflix and Chill", it basically means watching a movie with your crush, cuddling, and usually hooking up at the end of the night.
"Netflix and Chill" is also often used as code for hooking up on online dating sites. 
There are a few things that can make your Netflix and Chill night more fun for both you and your crush.
Don't miss: 50 Hook Up Messages to Text Your Friend With Benefits
The Steps to the Perfect Movie Night
Before you invite your crush to come over to your home or your dorm to Netflix and Chill, it is important to make sure that you actually have a few ideas on what you are going to watch.
You don't want to waste your time together trying to decide what movie should you watch.
You also don't want to skip the movie part and jump straight into the bedroom to avoid scaring your crush away especially if it is your first time.
Choose a movie that will set the right tone and create a relaxed atmosphere.
Something with a lot of action or suspense is probably not going to be ideal.
Second, you need to have good snacks.
This is essential for creating the perfect Netflix and Chill environment.
Popcorn, candy, and even wine are all great options.
While your date knows what could possibly happen, it is in their power to decide if they want to sleep with you or if they just going to watch a movie.
You want to make sure that you are not too obvious about your intentions because that can be a major turn-off and could ruin the entire evening before it truly starts.
You do not want to make yourself seem too desperate or needy when they walk through the door and you also do not want to come off too cocky like you know that you are about to get some.
Instead, show your crush that you are about to have a nice relaxing night together and you are not just trying to get into their pants.
Don't miss: How to Make Your Girlfriend Happy In Bed?
What Are Your Intentions?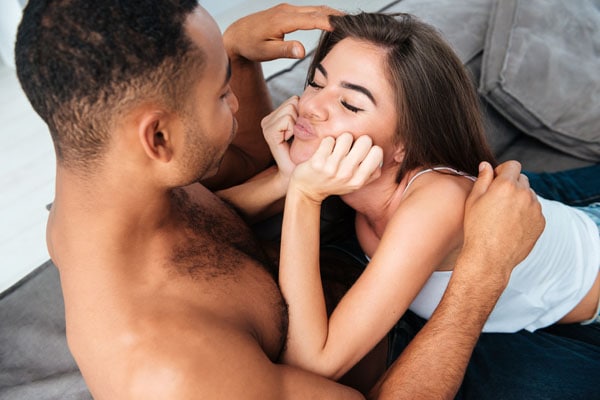 It is a good idea to avoid turning your first date into "Netflix and Chill" because most singles are not comfortable going into a stranger's house right away.
If you are looking for a serious relationship, then you want to make sure that your crush knows that you care about them and not just looking to get laid.
Even if you do look just for a quick fling, you still have to put in the effort to make your date feel special.
It has to be more than we are going to put on a movie but we are not going to be watching it.
You should have snacks, bring up an interesting conversation, and cuddle before trying to get some action.
Don't miss: How to Get a Younger Woman to Sleep With You?
Make it Comfortable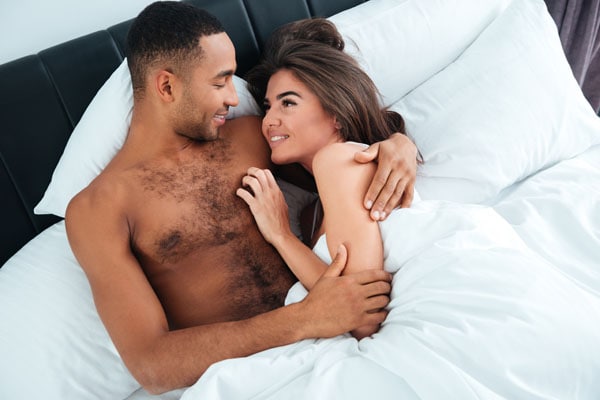 You want to make sure that both of you are going to be comfortable and relaxed while you are watching a movie.
Whether you're curled up on the couch or stretched out in bed, make sure you're comfortable. Blankets and pillows are always a good idea.
Some people like to have Netflix on their laptops so that they can cuddle on the bed and when things do start to heat up they have everything they need.
You can also watch and cuddle on the couch; which means that you will have less space and will be closer together.
If you just met your crush, it is probably a good idea to avoid the bedroom and stick to your living room.
Read next: Dirty Things to DO in Bed
How to Make a Move During Netflix and Chill?
First things first, you need to set the mood.
This means dimming the lights, maybe even lighting some candles, and getting rid of any distractions like your phone. 
Once you've done that, it's time to get cozy.
Snuggle up close to your partner, put your arm around them, and let the physical contact happen naturally.
One trick is to tell them that you feel cold and you need a hug.
From there, it's all about taking things slow.
Start with some innocent cuddling and kissing, and see how your date responds.
If they seem into it, then you can start getting a little bit more aggressive.
But always remember to read their body language and cues, so you don't end up going too far too fast and scare them away. 
Last but not least, you need to be prepared for when things start to heat up.
Make sure you have some form of birth control ready to go.
You don't want the mood to be ruined by a lack of preparation.
Read next: 31 Ways To Ask A Guy To Come Over Without Sounding Desperate
Dating Sites to Try in 2023!
*This post might contain affiliate links. If you click on a link, we might receive a small commission. As an Amazon Associate, we earn from qualifying purchases.