So you want to spice things up in the bedroom but have no idea where to start?
Physical intimacy is an extremely important component of every relationship.
However, sometimes making love can become redundant and boring unless you change things up every once in a while.
Let's look at how you can make your intimate life more steamy and exciting.
Don't miss: 34 Examples of Things a Woman Can Do to Spice Up The Bedroom
What to Say to Your Man in the Bedroom?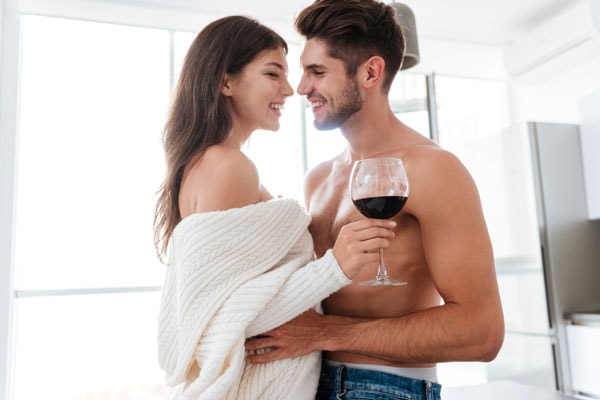 Often people have a hard time figuring out what to say in the bedroom without feeling awkward.
Not to mention you want to avoid sounding cheesy while still getting your point across.
So it comes down to one simple question: What do guys like to hear when making love?
It is important to understand that men are not so much different from women when it comes to physical intimacy.
You also need to decide if you want to be more romantic, or if you want to be playful and open-minded as this will affect your approach.
Here are a few examples of dirty things to tell your boyfriend:
I want you so bad right now.
You taste so good today.
Let me taste it right now.
How do you want me today?
Please don't stop.
I am so wet right now.
Do you want me on top?
I love feeling you so deep inside of me.
Don't Miss: 59 Hot Flirty Questions to Ask a Girl on Tinder or Bumble
Things men like to hear
First and foremost, understand that guys are people just like you.
What do you like to hear in bed? Think about the things you wish he would say to you.
Do you think he would like to hear something similar? Guys are not alien species that are completely non-understandable.
Chances are if you enjoy the dirty talk, he likes it as well but is afraid to tell you.
Also, try to understand his quirks.
Are there specific things he liked hearing before?
Is he insecure about his body?
For example, if he is, tell him how you love his body.
Cater to what will matter the most to your man.
Don't Miss: Examples of Dirty Snapchat Ideas
How to be ROMANTIC in bed?
Are you trying to be romantic? If so, simply telling him how much you love him can be an easy and straightforward way to show him that you care.
Tell him things like, "you have never loved anyone as much as him", and "how handsome and beautiful he is".
Don't be afraid to get specific.
Talk about his body, his eyes, his hair, and anything that you find attractive in your boyfriend.
Talk about how you love being with him and you love the way he makes you feel.
Be honest and open and tell him all the things that are on your mind when he is making love to you.
Talk about how you can't believe you found someone so great and amazing.
Don't Miss: 7 Ways to Make A Guy Want You Over Text
How to be DIRTY in bed?
If you are looking to take a dirty approach then you can spice up what you are going to say.
Think about your favorite things that he does to you while you are in bed.
Now tell him how much you like those things and explain why.
Talk about the best times the two of you made love and the things he does that drive you crazy.
Tell him how you like sleeping with him.
It may seem simple, but it can do wonders.
You can also whisper things that you would like him to do to you in the future.
This is a perfect time to share your intimate desires and wildest fantasies with him.
It is usually much easier to share a wild fantasy when you are in the throes of passion than randomly bringing it up another time.
Overall, most guys enjoy hearing dirty things in bed.
Not all guys are the same though.
The first thing you need to do is to decide what kind of guy you are dating and think about the things he would like to hear.
Don't be afraid to get specific and tell him what you want him to do to you the next time you are making love.
Chances are, he has similar fantasies but is afraid to bring them up.
Read next: 5 Reasons Why Your Boyfriend or Husband is Bad in Bed
Dating Sites to Try in 2022!
*This post might contain affiliate links. If you click on a link, we might receive a small commission.