Intimacy is a very important component of any relationship.
For many couples, physical intimacy is how they gauge the health of the relationship and how satisfied they are with their partner.
Unfortunately, it's often a lack of satisfaction in the bedroom that creates a divide in a relationship and ultimately leads to its end.
More often than not, it's the women who are unhappy.
Keeping your girlfriend satisfied in a bedroom may seem like a daunting task, but it doesn't have to be.
Paying attention to what you're doing and trying a few tips that we will discuss today will help you to keep your girlfriend happy.
Don't miss: 107 Examples of Hot Things to Say in Bed to Turn Her On
How to Make Your Girlfriend Happy In Bed?
1. Change It Up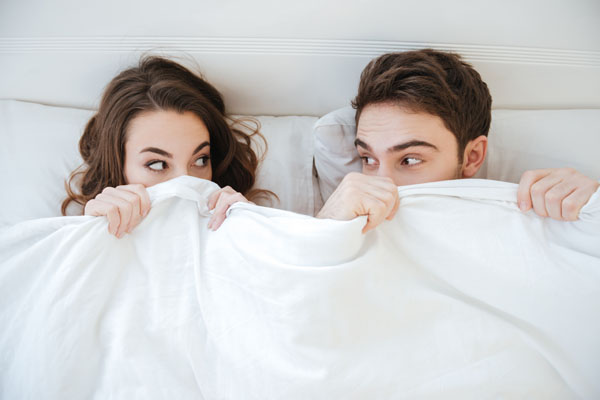 When you and your girlfriend first met, you probably kept it simple as you learned about each other and got your bearings.
Going with the basics can be a great way to start off an intimate relationship, but that doesn't mean you can't go beyond that.
Sticking with the same old missionary position can make your lovemaking boring sooner or later.
To avoid this, try to change things up.
Don't Miss: How to Turn Her On Over Text?
2. Know the Territory
For a woman to enjoy lovemaking, her partner needs to hit all the right spots in all the right ways.
Unfortunately, most men are unaware of how to do that due to the complexities of a woman's body versus a man's.
As some women are not familiar enough with their own bodies to point their partner in the right direction, asking her for directions (so to speak) may not work all the time.
Take the time to explore your girlfriend's body and find where all the right buttons are.
Even if you've been together for a long time and you think you know your way around, there might be a few things you've forgotten or are unaware of.
Some women may need stimulation in multiple places, so figure out what works for your girlfriend.
Don't miss: How to Get a Younger Woman to Sleep With You?
3. Don't Be Selfish
You're not the only one involved in the relationship and you should definitely not act as such in bed.
Being selfish and focusing on your pleasure instead of your girlfriend's might be the reason why she's unhappy.
Selfishness in bed, even if it's unintended, can make her feel like you're using her for her body and that that's the only value she has to you.
The easiest way to make sure that you're not being selfish in bed is to focus on her pleasure.
Do the things that she likes and enjoys.
Lovemaking isn't a race to the finish line and your girlfriend isn't the competition that you need to beat in order to win.
Don't miss: 29 Hot Date Ideas for Married Couples
4. Set the Mood
Satisfaction from making love is not limited to what goes on when the clothes come off.
For many women, the non-physical things that you do beforehand can have as much of an effect as what you do in bed.
Physical intimacy has as many psychological aspects as it does physical, so getting her mentally in the mood will help her enjoy it later.
Setting the mood may require you to do a little work beforehand.
Doing things such as helping her destress by giving her a massage or dropping a few flirty compliments throughout the day can be great ways to get her in the mood.
5. Get Romantic
One of the reasons why some women are not happy in bed is because of the lack of romance in their relationship.
This is often a big issue because a lack of romance can create stagnation, which can affect every aspect of a relationship.
Being romantic doesn't have to be expensive or require a lot of time and energy.
Actually, romance can be introduced into the bedroom in small steps.
Be spontaneous and surprise her from time to time.
Cuddle afterward instead of rolling over and going to sleep.
Read next: 11 Best Zoom Dating Ideas to Try Tonight
6. Pay
Attention
to
Her
C
ues
Pay attention to your girlfriend's body language and vocal cues so you can gauge how she likes it when you touch or kiss certain areas of her body.
If she starts moaning louder or arching into your touch more frequently, then chances are good that she enjoys whatever it is that you're doing at that moment!
So take note and do more of those things!
7. Get Feedback
As much as you might wish, you can't read your girlfriend's mind to find out what's wrong.
If you think your girlfriend isn't satisfied in bed, talk to her about it.
She's not going to think less of you for asking how she feels. If anything, it'll show that you care about her and her pleasure.
Talking about what you're doing in bed can seriously help get you both on the same page.
Maybe you're not making out enough. Maybe that position that you really like is uncomfortable or even painful for her.
Likewise, she might like something that you do in bed, but you don't do it often enough or long enough for her to really enjoy it.
Read next: Examples of How to Seduce a Woman Over Text
Dating Sites to Try in 2023!
*This post might contain affiliate links. If you click on a link, we might receive a small commission. As an Amazon Associate, we earn from qualifying purchases.