What do women really want? How do you turn them on? Can you really seduce them just by texting them a few simple messages?
As complicated women may appear to be, it is not hard to turn them on when you know what makes them tick.
In order for you to tap into a woman's psyche, you have to understand what triggers them to be attracted to a guy.
Don't miss: 150 Words and Phrases That Turn Women On
What are Women Attracted to?
Since women are more imaginative than visual, it'll take more than a pretty face and a set of abs to make a woman tick.
Women are attracted to the following:
1. Intelligence
Being knowledgeable about a certain field exudes intelligence.
It means you can carry on a conversation because you know what's happening around you.
You have a basic understanding or even a more leveled-up knowledge of how some things work.
Being an authority on an issue can be a turn-on as well.
2. Humor
It's always been a known fact that the funniest guy most often than not, beats out the hot guy when it comes to seducing women.
You can be the best-looking dude in the world but if you don't have an inch of a funny bone in your body, you are failing at the game.
Making women laugh allows their brains to release happy hormones and gets you branded in their minds.
If they have a positive experience with you, you are memorable.
Don't Miss: How to Send Funny First Messages
3. Confidence and Ambition
Nothing is more of a turn-off than a man who needs constant reassurance.
An insecure man who doesn't believe in himself will exude an impression that he needs to be cared for all the time, needs to be reassured all the time, and worst, be coddled all the time.
Most women want a man who's sure. Who has a vision and is driven to attain a certain goal.
Ambition is very attractive to women because they see a man and not a boy looking for a mommy to coddle him.
You can utilize these main characteristics that women are attracted to by conveying these qualities over text.
When talking with your lady, exude intelligence by "wowing" her with your knowledge about general topics.
Be careful, there is a fine line between being a smart-ass and being smart.
Read up a little on what's happening in the world and casually insert it into your regular conversations.
With the information easily available on the Internet in the palms of your hands, it shouldn't be complicated to whip up a quick Google search on whatever topic she brings up.
Don't miss: Examples of How to Seduce a Woman with Words: 4 Easy Steps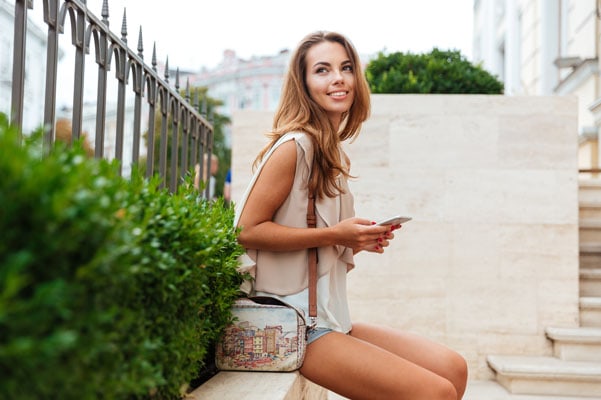 Humor might be the greatest quality a man can poses in the eyes of women.
When texting her, a simple dad joke can get her to crack a smile and think about you.
You can also use humor to lure her into a more intimate type of conversation by using innuendos.
Joking about having dirty thoughts through the use of innuendoes will allow you to protect yourself in the case that she gets offended.
It's going to be so easy for you to deny leading texts when it doesn't work according to plan.
Examples of Texts With Innuendos
Her: Wanna go out for drinks after work?
You: Sure just don't take advantage of me if I get too drunk.
You: Why didn't you park closer?
Her: The parking spot was too small
You: Yeah it is not easy to get it in when it is too tight
Her: I can't reach my phone
You: Maybe if you get on your knees it might be easier to get it
Her: I think it is starting to rain.
You: You might be all wet when you come. Should I try getting inside and wait for you there?
The interesting thing about the text with innuendos is that often the girl will not even consciously realize that you are being suggestive.
However, her subconscious mind will notice it and she might get turned on.
This will make it much easier for you to seduce her.
Don't Miss: 75 Things to Say to Make Your Girlfriend Blush
Examples of How to Seduce a Girl Through Text
1. Can't stop thinking about you, especially when I'm in bed trying to sleep…
2. I want to explore all of your secrets, even the ones you keep hidden away from me
3. Come away with me for a weekend and let me show you something special!
4. I can't help but imagine what it would feel like to kiss you right now…
5. You know what I want? To make all your secret fantasies come true
6. Come to me and let me show you the world's most beautiful places… starting with mine
7. Don't worry, I won't tell anyone our secrets they're safe with me
8. Every night, I dream of us walking along the beach, hand-in-hand while watching the sunset in front of us
9. I know the perfect place for us to explore together…
10. Let me take you away from everything, let me show you a different kind of paradise
11. Your mysterious ways have me enthralled and intrigued and I want more of it!
12. When we touch, something inside me stirs and I want to keep feeling that way forever
13. There are no boundaries when we are together, no rules, just pure pleasure
14. I can't stop thinking about your lips and how sweet they taste
15. I bet you look stunning right now, and I wish I could be there to see it
16. If you were here with me right now, I wouldn't be able to keep my hands off of you
17. Let me show you just how much I care about you in every way imaginable
18. If only you knew what my fantasies of us involve…
19. Kissing your neck is one of my favorite things to do. What's yours?
20. I want to kiss every inch of you until you forget who you are
21. I can't stop thinking about how amazing our night together was, let's make more memories like that!
22. If only we could stay up all night talking, touching, and exploring each other
23. Imagine being surrounded by me, feeling my touch, and hearing my voice as we get lost in each other
24. Tonight, let's make magic together and explore each other like never before!
25. If only I could be there to whisper sweet nothings in your ear right now
26. Will you let me spoil you with my attention tonight?
27. I don't know what it is about you, but every time I'm around you, my heart starts racing and my palms get sweaty
28. If I could make all your dreams come true tonight, what would you wish for?
29. Come over for a midnight snack with me, so we can stay up all night talking
30. Thinking of all the things we could do together if only…
Don't miss: 100+ Flirty Questions to Ask an Older Woman You Like
The Importance of Being Confident When Texting a Girl
It's been proven that women are biologically attracted to confident males.
You see this in nature all the time: male animals show off to attract a mate.
It's a bit different for humans but still similar. Men tend to be more attractive when they can carry themselves well.
This will entail confidence. Sending her the first text most of the time relays a message of "pursuance."
Women love to be pursued, chased and wanted.
You will need to be a confident man so swallow whatever pride you have and send her that first message every time you want to talk to her.
Confidence can make a huge difference between coming across as seductive vs. creepy.
Don't miss: 70 Examples of Text Messages To Get Her In The Mood
Simple Tips to Establish an Emotional Bond and Seduce a Woman
TALK to her regularly, daily, as much as you can
TAKE a hint when she's not available or in the mood to talk
REMEMBER the details that she mentions in your conversations
JOKE around with her and let her laugh and assimilate you with the feeling of happiness
SHOW your vulnerable side so she knows you're comfortable with letting her in
Examples of Text Messages to Seduce a Woman
In the process of establishing an emotional bond, you can use a variety of these examples as texts to seduce her.
"

Hey, I was cleaning my room and found this:

<send a picture of the item she left>

. Made me think of you 😉

"
A more seductive approach would be, "Hey <insert picture of the dining table>, I can never look at that table the same way again… It's missing you on it."
Texting her out of the blue: "

Can you stop it?" "Huh, what?" "I really can't concentrate on this meeting with you running on my mind all day.

"
Understand that seducing women can be a long game.
It may be different for some but for most women, it takes effort and patience.
Think of seduction as a game. Be playful and easy when texting the girl you want to seduce.
The two things that kill seduction are desperation and lack of confidence.
If you treat the seduction as a game and focus on the process instead of the end result you will be much more successful.
Don't Miss: 59 Hot Flirty Questions to Ask a Girl
Dating Sites to Try in 2023!
*This post might contain affiliate links. If you click on a link, we might receive a small commission. As an Amazon Associate, we earn from qualifying purchases.