If you used Tinder for a while, you probably know that most people have extremely boring taglines (slogans) that scream "I have zero creativity and you will die from boredom if you end up meeting me in person".
However, the worst thing is that the people with these types of headlines and quotes later complain that no one replies to their messages.
If you don't want to be one of those boring guys on Tinder, you will have to come up with something more creative than "Hey Girls!" or "I am new here!".
To help you out we came up with a huge list of the best dating taglines that you can use on any dating website and app including Zoosk, Tinder, Bumble, POF, OkCupid, etc.
Don't miss: 12 Reasons Why Your Tinder Matches Never Message You
Best Tinder Dating Taglines for Guys to Get More Replies and Matches
Don't forget to change these lines to fit your personality before posting them to your profile.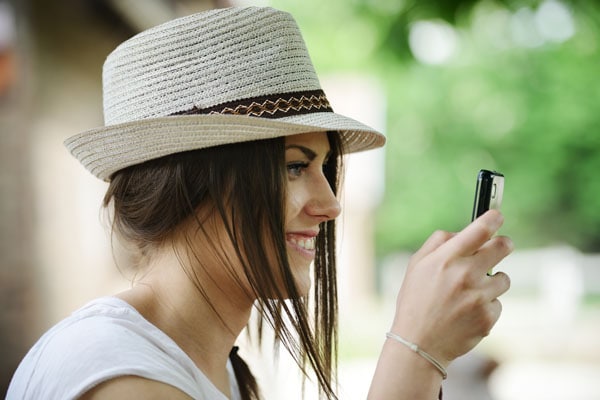 I

'

m

sorry

for

what

I

said

when

I

was

hungry
2. I'm good at making sparks fly!
3. I'm not really a people person, but I do like dogs
4. I'm not really into fitness but I do like cuddling
5. I have a tendency to talk to myself… a lot
I'm not crazy, I'm just a little unhinged
6. I'm not OCD, I just like things to be done a certain way
7. On our first date, I'll make you a playlist of all my exes' songs
8. If we cuddle, can we still be friends?
9. Not perfect, but my dog thinks I'm awesome!
10. Funny & well-mannered Prince Charming!
11. I'm not paranoid… they really are out to get me
12. Let's explore the world… together!
13. I'd tell you your smile is cute but someone else probably did that already so you know
14. Let me inspire that great smile of yours!
15. I don't bite…usually
16. This one time, at band camp…
17. Guaranteed five times more fun than your ex
18. A good girl is ideal but crazy works as well
19. Feel free to message me, I'll most likely reply
20. It began with me being the fastest sperm…
21. I could be the one to take you off this site
22. I like my women like I like my burrito: hot, spicy, and full of sauce
23. I'm the best at cuddling, snuggling, and spooning
24. I'm the cuddler you've been looking for
25. I'm not really into fitness but I am into pizza
Don't miss: 100 Funny and Flirty Conversation Starters for Online Dating
26. We can bond over our mutual love of not wanting to leave the house
27. My dog thinks that I'm a great listener
28. I'm not just a good catch…I'm also a great release
29. I will always make sure to put the toilet seat down
30. I can fix anything… maybe except your broken heart
31. I can be romantic… but only when it benefits me
32. I'm always honest… even when it would be better to lie
33. I'm a great driver… except when there are other people on the road
34. I have a very particular set of skills…that you will likely enjoy
35. I'm a firm believer in cuddling
36. I like my chicken wings like I like my men – hot and spicy
37. I'm not really looking for a relationship, I'm just looking for someone to feed me and put to bed
38. I'll never ghost you, I'll just slowly stop texting you back
39. I can make any situation awkward… just ask my ex
40. If you can put up with my jokes, then you're definitely a keeper
41. I come with a free hug – redeemable at any time
42. No drama, no games, just fun
43. I have the ability to make people feel guilty about things they didn't even do
44. My friends would describe me as someone who is always up for anything, no matter how lame it may be
45. I have a strict policy of not dating anyone who doesn't like skinny dipping
46. I'm the type of person who will show up at your house at 2 am with a six–pack of beer and a movie
47. I'm not really a "planner", so our date might be a little spontaneous
48. If you're looking for someone who is always serious, you're in the wrong place
49. I'm not really sure what to say here, so I'll just say something random: llamas are cool
50. I'm not here to talk, I'm here to…
Don't miss: 150 Best Catchy Headlines for Dating Sites
51. Unfortunetly I'm just another pretty face…
52. I'm not responsible for any injuries sustained while we're together
53. Handle with care: fragile ego
54. May contain nuts 
55. I'm not a doctor, but I can make you feel better
56. I'm not good at flirting, but I'm great at being awkward
57. I'm not really looking for a relationship, I'm just looking for someone to go on dates with so I can tell my friends I'm not a total loser
58. I'm not here to find a wife, I'm just here to get some 🍑
59. I like my milk straight from the goat
60. I don't do commitment…sorry about it
61. I'm not really into yoga, but I will stretch with you
62. If we go on a date, I promise not to talk about myself the whole time
63. Send me a pic so I know you're real
64. If you can't handle me when I'm hungover, you don't deserve me when I'm sober
65. I'm not really good at small talk, so let's just skip to the part where we make out
66. I'm sorry, I don't know your name, but can I borrow your body for a minute?
67. I'm not here to judge, I'm here to make you feel good about yourself
68. I'm the type of person who will hold your hair while you…
69. I'm the type of person who will tell you that you're beautiful even when you're not
70. I'm not looking for a relationship, I'm just looking for someone to make out with
71. I'm always down for a Netflix marathon and some cuddles
72. I'm the human equivalent of a warm blanket
73. If you can make me smile, you can have me
74. I want someone who can keep up with my wild side
75. You can have me for dessert or you can have me for breakfast… your choice
Don't miss: 150 Sassy and Flirty Texts to Send to Your Crush
76. I like my women like my yoga pants…tight 
77. I'm the type of guy that likes to take things slow… in bed
78. I'm the type of person that will keep you up all night talking… And then some
79. I'm not just a good catch, I'm also a good cook
80. I know what you're thinking and yes you can come over if you want
81. Let's go on an adventure… or stay in bed all day… whichever you prefer
82. I'm the kind of guy that will do things for you… like getting you another drink or stealing your fries when you're not looking
83. I've been told I have a "way with words"… so why don't you let me put my mouth to good use?
84. I want to be the reason you look down at your phone and smile
85. I'm an excellent cuddler and can make even the grumpiest person smile
86. I have a tendency to fall in love with people who don't deserve my love
87. I will never let you go to bed angry, I love making out after a good fight
88. I'm always up for anything, anytime, anywhere
89. I have a dirty mind and you're always on it
90. I like my partners to be assertive and take charge
91. I love trying new things, especially in the bedroom
92. I'm a sucker for cuddles and pillow talk
93. I'm the type of guy who will do anything to make you moan
94. I'm here to turn that frown upside down… or at least sideways
95. I'm looking for a girl who's down for a good time, not a long time
96. I'm here to make all your dirty dreams come true
97. I like my women like my drinks, straight up and with a twist
98. Good times are my specialty
99. I like my women hot and sweaty
100. I know what you're thinking, and yes, I do bite… hard.
101. If you can make me laugh, you can have me – deal?
102. Ready to settle down with someone who appreciates good beer and has a dog
103. My pictures don't do me justice… trust me, I'm much hotter in person
Don't miss: 100 Short Dating Profile Examples for Males (To Copy and Paste)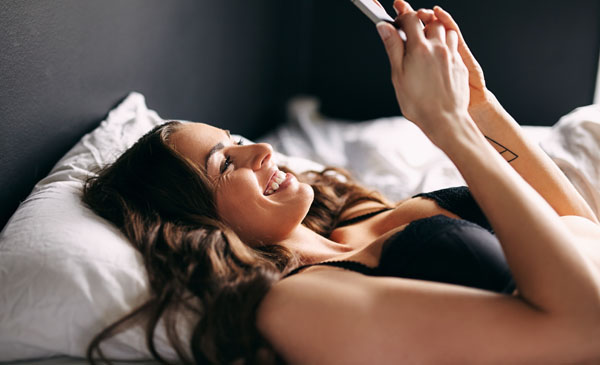 The main goal behind every Tinder tagline is to grab attention and make girls want to chat and eventually meet you in person.
It is important to stand out among all other guys on Tinder and having a unique catchy tagline as well as good pictures and bio is a must if you want to succeed.
Tinder has a huge number of users and if your tagline and the rest of the profile make you sound boring girls will just move on to the next available guy.
One way to get a better idea of how to write good taglines is to browse through other guys' Tinder profiles.
I know it sounds a little creepy but if you want to succeed on Tinder you need to know who you are competing with.
This way you will also get a better idea of what pictures other guys are using and what they write in their bios and see if your profile will be able to stand out.
Alternatively, you can ask your female friends to take a look at your profile and tell you if something doesn't look right.
Read next: 150 Short Funny Tinder Bios for Guys 
Dating Sites to Try in 2023!
*This post might contain affiliate links. If you click on a link, we might receive a small commission. As an Amazon Associate, we earn from qualifying purchases.