Many relationships start with texting. Often people meet online and after texting back and forth a guy usually asks a girl out on a date.
However, it is not always clear if the girl you are texting likes you or is just being friendly.
The easiest way to be sure that she is into you is to pay attention to her texts.
Here are the top 10 signs that you will notice if she is attracted to you.
How to Tell If a Girl Likes You Over Text?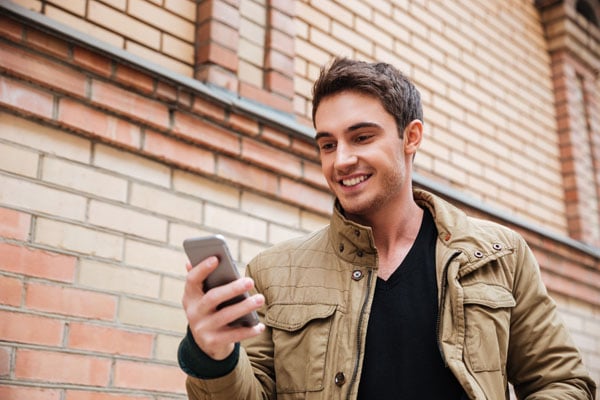 1. She Always Replies to Your Text
If she is always replying to all of your texts, it is the first sign that she is interested in you.
Some women give their phone numbers to a lot of guys online and then when all these men start texting them they ignore some of their messages.
If however she really likes you, she will reply back and ignore all other guys.
Don't miss: 7 Examples of What to Text When a Girl Doesn't Reply
2. She Replies Fast to Your Texts
Most girls reply fast to guys they like because they are eager to talk to them.
The only exception is the girls that like the guy but also play mind games thinking that the longer they make a guy wait for their text the more attracted he will become.
Obviously, this rule also doesn't apply if you are texting her in the middle of her class or work shift.
If however, she is constantly taking a long time to reply to your texts, she is not really interested in talking to you.
Don't be one of the guys who texts her back and asks why she is not replying because it will only make her think that you are needy and don't have too many options when it comes to women.
3. She Texts You First
Girls usually wait for a guy to text them first. That's why if a girl is the one who texts you first it is a sign that she likes you.
She might be texting you to ask how was your day, what are you doing later, or maybe even ask you why you are not texting her.
However, if she only texts you first when she needs something from you it is not a sign of attraction.
Read next: How to Text a Girl for the First Time?
4. She Asks About Your Plans
If she asks what are your plans for the weekend or what are you doing after school, it is another sign that she is interested.
She might be also sharing a lot of her own personal plans with you in hopes that you will join her or ask her out.
"Can't wait to go hiking with my girlfriends this weekend! What are you up to on Saturday?"
"Any big plans for the weekend?"
"Are you going to the gym after school?"
5. She Replies in Complete Sentences
If the girl really likes a guy she will usually reply in longer texts than a typical "k", "night" and "ttyl".
6. She Flirts With You
Flirting is a proven sign of attraction. It can be anything from joking and playful teasing to using dirty emojis.
If she is really attracted to you, she might be also using dirty innuendos in her texts.
"Do you miss me already?"
"I can't believe I ran into you in a gym. You just can't stay away from me :)"
"What do you think about this outfit?"
Don't miss: 10 Ways to Text a Younger Woman
7. She Shares Personal Things About Herself
Most girls only share personal stuff with the guys they like and feel comfortable with. She might also ask personal stuff about you to find out if you are single and whether you like her.
"So what your girlfriend is like?" – checking if you are single
"I think my ex still stalking me on Instagram" – telling you that she is single and making you jealous at the same time
8. She Sends You Intimate Photos
This is a clear sign that she is physically attracted to you. Friends don't send each other suggestive photos unless they want to hook up.
"Here is something for you to think about at work :)"
"Is this too much?"
"Do you like red?"
9. She Calls You
If the girl wants to talk on the phone instead of texting, it is another sign that she is interested in you.
An even better sign is if she wants to video chat with you especially if you never met in real life.
"Hey I was bored and decided to call you"
"Hey just want to hear how you sound in real life lol"
"I am tipsy and bored. Do you wanna video chat?"
10. When You Ask Her Out – She Agrees to Meet Up
The only true way to be 100% sure that she likes you is to ask her out. If she agrees to meet you, it is a solid sign that she is into you.
If on the other hand, she makes up some excuses like for example she is too busy it is likely that she is not into you and just enjoys texting you when she is bored.
Read next: How to Respond When a Girl Says She Is "Busy"?
How Long Should You Text Before Asking a Girl Out?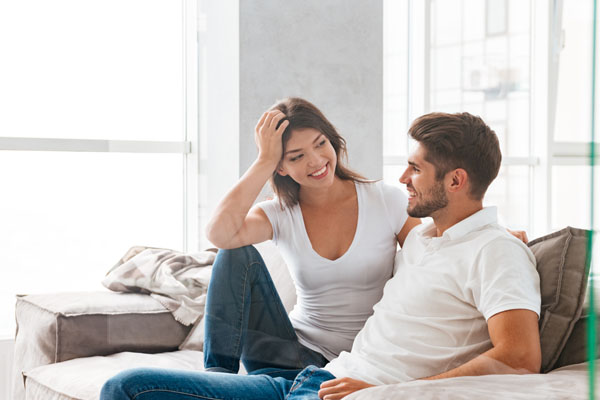 As a rule of thumb, the sooner you ask the girl out the better. You don't want to wait until some other guy asks her out or she gets bored with your texts.
As long as you know that she is into you, don't hesitate to ask her out. It is better to get rejected than miss a chance with a great girl only because some other guy had more courage to ask her on a date.
To make it easier for her to say yes, invite her to meet up for a coffee, ice cream, or drinks instead of going to a restaurant.
It might be also a good idea to call her when asking her out to show her that you are confident and not some weird guy she met online.
Examples of what to text a girl to ask her out:
"Hey, I really enjoy talking to you! How about we meet up for coffee on Friday?"
"Do you have any plans for Friday?" or "Are you free on Monday"
"Do you want to see a movie tomorrow after work?"
Read next: 10 Ways to Respond to a Cancelled Date
Dating Sites to Try in 2023!
*This post might contain affiliate links. If you click on a link, we might receive a small commission. As an Amazon Associate, we earn from qualifying purchases.