For many singles, first dates can be overwhelming.
You have to decide where to go, how to act, what to talk about, and finally, if you should kiss your date.
On one hand, you may think that kissing on the first date will help to create a deeper connection with your date.
On the other hand, you may worry that kissing on the first date is too forward and will scare your date away.
The decision of whether or not to kiss on the first date depends on a number of factors, including your personal preferences and the chemistry between you and your date.
If you are feeling a strong connection with your date, then a kiss on the first date may be the perfect way to seal the deal.
However, if you are not sure about your date or you feel like things are moving too fast, it may be best to wait until the second date to make your move.
Don't miss: 14 Signs That a Guy Wants to Kiss You
Why Do People Kiss in the First Place?
Scientists aren't certain when or why kissing began.
It is one of those universal behaviors that span the globe and embeds itself into every culture.
Considered to possibly originate from the connection of primate mothers and their offspring, kissing has evolved from a means of survival to the promotion of social bonding.
Commonly perceived today as a romantic gesture between two people, kissing is a physical and chemical transaction that provides signals that help us make a vital life choice: find a mate.
We all view kissing from very different perspectives.
Some consider it a nonchalant social norm as much as waving and shaking hands while others believe that it is a sacred action to be waited for until they're standing at the altar.
Regardless of when or where, or how it's perceived, kissing will usually evoke the same feelings and chemical reactions, all of which are linked to the simple biological goal of procreation.
Therefore, because of its complexity, kissing is handled differently by every person.
Don't miss: 9 Steps to Get a Guy to Kiss You for the First Time
So Should You Kiss on a First or Second Date?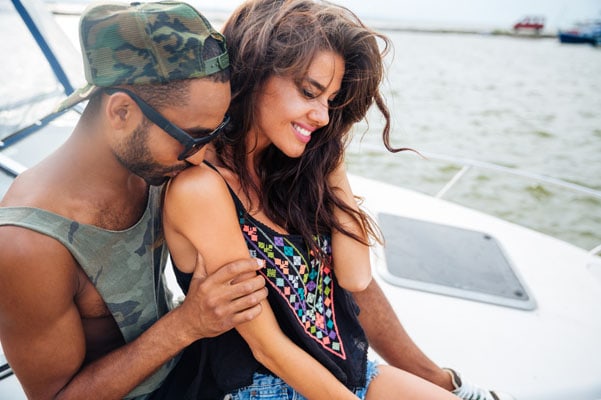 Kissing is a sign of attraction and affection, so mutual attraction is important before you go for a kiss.
Some feel that on the first date while for others, it can take much longer than that.
We should also consider the different perspectives of men and women when it comes to kissing.
Men have this unspoken pressure from society to be the initiators and they are expected to make the first move.
That's why most men are ready to kiss a girl on the first date.
For women, it takes a little longer to warm up to kissing because women are more selective.
As a result, they likely view the kiss with a little more importance than men do.
For some, a kiss could be a way to test the waters. For others, a kiss is a clear sign of commitment.
That's why it is usually a good idea to figure out how your date feels about kissing to avoid any awkward situations.
The last thing you want is to send the wrong message and scare your date away.
Read next: How to Get a Girl to Kiss You Without Asking?
Kissing is a choice so don't expect your date to be ready for a kiss on a first or even second date.
If there is a lot of tension and your date is comfortable with physical contact like hugging or holding hands, you should go for a kiss.
If however there's no attraction during your first date, don't force it becasue it will just feel awkward.
If things are different on the second date, then go ahead and kiss your date.
However, if you have been seeing each other several times already and the attraction is still not there it is possible that you are just not a good match for each other.
Whatever you decide, just be sure to listen to your gut and follow your heart. After all, it is your decision!
Don't miss: 16 Tinder First Date Tips and Ideas
How to Tell If Your Date Wants to Kiss You?
There are a few things to look for that can help you to figure out if your date wants to kiss you. 
First of all, see if your date is leaning in closer to you during the conversation because this is a subtle sign that they are comfortable around you. 
Second, pay attention to their body language.
Are they mirroring your body language? Are they pointing their body toward you?
This may be a sign that they are attracted to you and want to get closer.
Third, watch their eyes.
Are they making eye contact with you? Are they looking at your lips?
This is another sign that they are thinking about kissing you.
Finally, pay attention to the way they are touching you.
Are they touching you more than usual? Are they touching your face or hair? 
If you see all these signs, it's a good indication that your date is interested in kissing you so don't be afraid to make the move!
Read next: How Long Do You Date Before Becoming a Boyfriend and Girlfriend?
Dating Sites to Try in 2023!
*This post might contain affiliate links. If you click on a link, we might receive a small commission. As an Amazon Associate, we earn from qualifying purchases.