Are you seeing a guy that you really like and now you want to take things to the next level?
Before becoming more intimate with your boyfriend it is important to make sure that both of you are comfortable with hugging, holding hands, and kissing before taking things any further.
The next step is to relax. There's no need for your first time to be perfect—and most likely it won't be.
He's not going to know what really turns you on, and you won't know all of his preferences either. But that's OK.
Things will get better over time!
Here are some tips to ease your first-time nerves and help you both have as much fun as possible on your first night together.
Don't miss: 9 Steps to Get a Guy to Kiss You for the First Time
How to Make Love for the First Time With Your Boyfriend?
1. Be Safe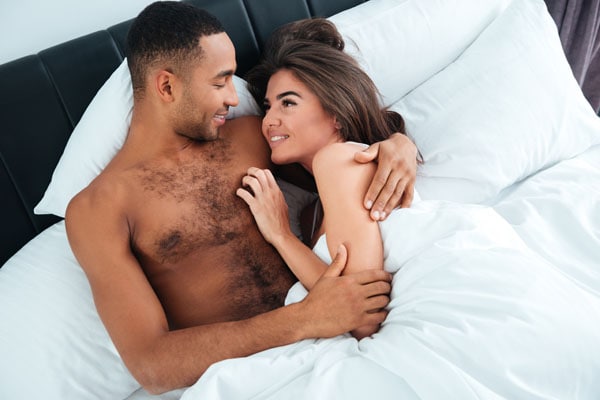 Talking about STDs may not be the most exciting topic, but it is crucial before engaging in an intimate relationship with your new boyfriend.
One in every three or four adults has an STI, so it's imperative to talk about safety with new partners. Don't let discomfort keep you from having this important conversation.
Also, be clear about using protection. Don't rely on your boyfriend to come prepared—take control of your safety.
It is also not a bad idea to test yourself and your boyfriend just to be on the safe side.
If you live in the US, you can actually check for STDs online.
2. Location, Location, Location
Make sure that your first time together is somewhere where you feel comfortable.
If one of you has a ton of roommates, or out-of-town guests, or the walls are so thin that you can hear everything in the neighboring apartment, choose a different place that will allow you to have more privacy.
If you can afford it, get a hotel or motel room to make your first time more memorable.
Once you're comfortable with each other, you'll no longer feel as shy and will feel much more relaxed.
If you know you'll be hosting, set the mood by tidying up, changing the sheets, getting rid of any lingering remnants of your ex, and setting some mood lighting.
Don't miss: 101 Dirty Things to Say in Bed to Turn Him On
3. Build
Ant
icip
ation
The best way to make your first time special is to build anticipation in the days leading up to it.
Get your boyfriend worked up by sending him flirty texts, kissing him passionately, or talking dirty to him.
This will not only make the act itself more enjoyable, but it will also help you relax and feel comfortable when the moment arrives.
4. Set
The
Mood
Dim the lights, light some candles, put on some soft music – create an atmosphere that makes you feel relaxed.
Pay attention to your own senses as well—wear something that makes you feel good about yourself and smells nice.
This will help ease any nerves and let both of you focus on pleasure instead of anxiety.
5. Be Confident
It can be hard to exude confidence when you're being physically intimate with someone for the first time.
But there are some things you can do to make sure that you're feeling your best.
Wear something that makes you feel desirable.
Don't pick something that you just think your partner will like, but think about the clothes, undergarments, and hairstyle that make you feel the most attractive.
Read next: What Do Guys Like to Hear in Bed?
6. Make Out. A Lot.
Kissing and cuddling are the keys to pleasurable first-time lovemaking.
Have a long make-out session where you touch and explore each other.
Focus on both receiving and giving pleasure.
7. Speak Up
While a lot of lovemaking is about nonverbal things like touch and emotional connection, it's important to be able to tell your partner what you like or don't like.
It won't "ruin the mood" if you are (gently) vocal about what isn't working for you.
And it goes both ways: periodically check in with your partner to make sure what you're doing is feeling good.
With time you'll probably do this less, but it's always a good idea to have open communication during your lovemaking encounter.
Don't Miss: 7 Ways to Make A Guy Want You Over Text
8. Relax
Being attentive to your and your partner's needs doesn't mean that you should overthink every little thing that you do.
This leads to anxiety and stress and makes it hard to enjoy the moment.
Having some nerves about the first time you sleep with someone is normal, but try to enjoy the moment instead of worrying about all the things that can go wrong.
Get out of your head and focus on your sensory experiences.
9. Take
Your
Time
Don't feel like you need to rush through everything just because it's your first time.
Explore each other's bodies and take the time to enjoy all of the different sensations.
This is a special moment that you will never get back, so savor it!
Don't miss: 150 Sassy and Flirty Texts to Send to Your Crush
10. Be Realistic
You've probably been thinking about this night for a while, but make sure that you maintain realistic expectations.
Sleeping with someone for the first time is a new experience and as with most new things, there's a learning curve.
Statistics have shown that most women don't finish when they're with a new boyfriend for the first time.
This doesn't mean that your intimate life will always be unsatisfying.
It just means that you're learning about each other's bodies and you should give yourselves some time to figure things out.
11. Have Fun
Your first time with a new partner will probably be at least a little awkward.
Making love involves all sorts of noises, smells, and facial expressions.
If something amusing happens, it's not the end of the world. Acknowledge it and move on.
There are no hard and fast rules about first-time intimate encounters.
Once you have decided to take this next step in your relationship, just remember to have realistic expectations, be vocal about your needs, be attentive to your partner's pleasure, and relax.
Your first time may not be perfect, but if you keep these tips in mind, it will definitely be pleasurable.
Read next: 101 Seductive Good Morning Texts
Dating Sites to Try in 2023!
*This post might contain affiliate links. If you click on a link, we might receive a small commission. As an Amazon Associate, we earn from qualifying purchases.