Do you like a guy at church but are not sure if he likes you back?
Maybe he even says hi to you every once in a while and you feel some chemistry, but when it comes to taking action and asking you out, it seems like he's too shy or unsure.
Should you go ahead and ask for his number instead or should you just continue waiting and hoping that someday he will ask you out?
If you are sure that he is into you it might be a good idea to drop some hints here and there to make it easier for him to make the first move.
Of course, you don't want to make too many assumptions and embarrass yourself, but at the same time, you don't want to miss a chance to get to know him.
So how do you know if he likes you in the first place?
Don't Miss: How to Approach a Guy or Girl After Church Service? 
Signs That a Christian Guy is Interested in You
1. He asks about you
If the guy in church likes you, he will likely try to find some information about you before making his move.
He will ask other people if you are single and based on that will decide to pursue you or not.
If you start hearing rumors, that there is a guy asking about you, then it is a sign that he is interested and wants to make sure that you are the right match for him.
2. He joins you in community activities
Churches often provide an environment for Christian guys and girls to come together and socialize.
Church activities are perfect for getting to know your fellow churchgoers and having casual conversations.
If the guy is interested in you, he will try to chat you up during those after-church events, to get to know you better and maybe even ask for your number.
3. He talks to you
If the guy likes a girl, his first step will be to talk to her to find out if she likes him back.
So if a Christian guy at church starts talking to you more often than usual it might be a sign that he likes you and wants to get to know you better. 
4.
His
body
language
changes
around
you
If a guy likes you, he'll often turn his body towards yours instead of away and will make strong eye contact.
He might also try to get closer to you than usual or stand up straighter when he is around you.
5.
He
looks
at
you
across
the
church
If you catch him looking at you from across the church and then quickly averting his gaze, he might be interested in you.
6.
He
always
smiles
when
talking
to
you
A genuine smile is a clear sign that a guy likes you.
Pay attention to his facial expressions when he's talking to you and if you notice that he always smiles and looks happy, it is a strong sign that he is interested in you. 
7.
He
asks
personal
questions
If the guy in church starts asking you about your past relationships, family background or other personal info – then it's likely that he has some feelings for you and wants to find you if you are single and available. 
Related Reading: How to Meet Single Christian Guys or Girls?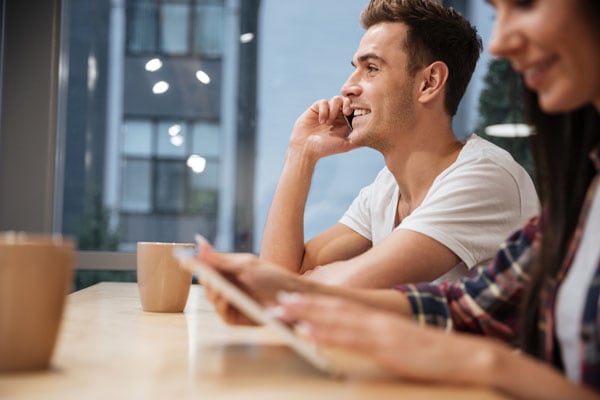 How to Get a Christian Man to Ask You Out?
Unfortunetly, not every guy will be brave enough to ask you out, so you might have to help him out.
But how? Well, you can:
1. Pray for guidance
This is the most obvious step.
The Lord will offer you guidance and assurance as to whether or not his interest will be lasting or short-lived.
Often patience will be the answer.
2. Be approachable
It will be hard for the guy to ask you out if you are cold and distant.
Be warm and welcoming so that he feels comfortable talking to you.
Have fun and be yourself!
3. Show interest in him
There is nothing wrong with showing a guy that you like his company.
By spending more time hanging out with him you will learn more about him, his likes and dislikes, his hobbies, and his faith in God.
If you start spending more time chatting with him, he will realize that you are just as intrigued by him as he is by you.
That being said, there is no need to be overly flirtatious to show you are interested – be yourself and show genuine interest.
4. Ask him out
He likes you and you like him so why not make the first step and ask him out?
Although it is not traditional, there is no harm in asking the boy out yourself.
You don't even have to ask him out on an official date.
Instead, ask him to go for a coffee or even a walk in a park.
Don't miss: How to Approach a Girl or Guy at Church? (Without Getting Embarrassed)
Conclusion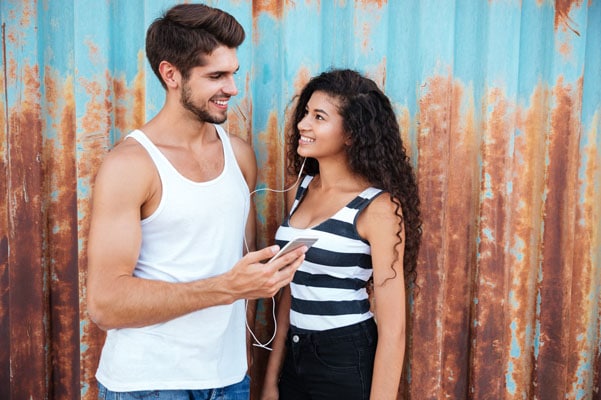 Getting a guy from church to ask you out can be tricky, but have faith in God and everything will fall into place.
If you are not having much luck meeting Christian guys in a church, you can try online dating.
Many Christian couples meet online because this way it is much easier to meet other Christian singles than in church.
When you browse through all the singles online you can see their faith as well as the type of relationship they are looking for.
Talking to Christian guys online is also a little less intimidating and the worst thing that might happen is that the guy you are interested in will not reply to your message.
In church, on the other hand, it can be a little awkward to pray with someone who rejected your advances.
Read Next: 15 Christian Dating Profile and Headline Examples
Dating Sites to Try in 2023!
*This post might contain affiliate links. If you click on a link, we might receive a small commission. As an Amazon Associate, we earn from qualifying purchases.